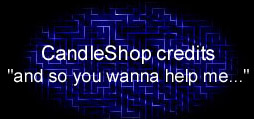 ---
Thanks to the late "Boxheads.com" and Keepinyaregular for providing me with most of the information for this page.

Thanks to Pragya, Nathan, Marie, Dani, Alycia, and Debby for the Candlebox pictures.

Check out:
Pragya's Page Raving over Candlebox
and
nathan's home page

Thanks to my other friend George for making Candlebox WAVs for me.
Thanks to Jenn, Chris, Nate, Mike, and Parker for sending in show reviews.

Thanks to Scott McClure for the guitar tabs.

Thanks to Jean for the poems.

and an extra special thanks to CANDLEBOX for being such an amazing band and because without them, this site obviously would not exist.

If you have anything (pics, WAVs, tabs, other info, etc.) that you would like to contribute to CandleShop, send it to salem117@excite.com. i will add your name to the credits page and add a link to your web site. Thanks!!