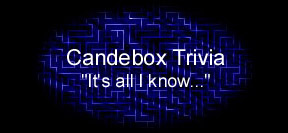 The "Come on, Lucy" in the beginning of the song "Lucy" was an accident, recorded when Pete's guitar picked up a radio staion.

Kevin Martin and Scott Mercado played together in a band called "Uncle Duke", for about two years before Candlebox.

As a child, Kevin used to catch butterflies in a jar and poke holes in the lid, but still they would always die. This is where he got the inspiration for the song "Butterfly". The song "Butterfly (Reprise)" is written from the butterfly's point of view.

Kevin once worked in a shoe store with (Soundgarden's) Chris Cornell's wife.

Kevin played drums in his first (punk) band.

The song "Best Friend" was written about Bardi's dog.